Dignitaries: (l-r) Paul Rampone guest of, MP Marilyn Gladu. St. Clair Twsp. Mayor Steve Arnold (roaming). Robert White guest of, Zone A-4 Commander Debbie Crown. LA Zone A-4 Deputy Commander Susan Laker, and guest Dennis Laker. LA Ontario Command 1st VP Sharon Crown, and guest Ron Crown. LA Branch President Denise Taylor. LA Member Shelia Murphy-Hancock, with Branch President Eric Hancock. Branch Padre Paul Woolley. 75th Anniversary Chair & Branch 1st VP Shawn MacNeil. Regrets: MPP Bob Bailey.
Also Present: St. Clair Twsp. Mayor Elect Jeff Agar and wife Sue Agar. Twsp. Councillor Tracy Kingston with husband Rob. Beacon Editor Bonnie Stevenson. Guest "Speaker" Sarnia Legion Pipe & Drum Band, including Pipe Major Tom Rankin, his wife Sharon and daughter Kate. And Drum Major Mark Dew.
Branch Dignitaries: Treasurer Dan Watson. Secretary Marg Emery. Poppy Fund Treasurer Debbie Proulx and husband Jean. Poppy Committee Member Diane Vrooman and husband Brydan. Poppy Chair Bob Chambers.
Guest Remarks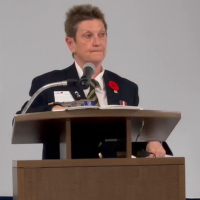 Zone A-4 Commander Debbie Crown:
Congratulations on acheiving 75 years of service to our community, and remembering the importance of the work we do.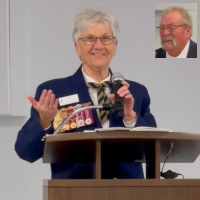 LA Ont. Cmd. 1
st
VP Sharon Crown:
Happy memories of her times in Corunna, including the opening of the new building in 1986 and fun meeting executive member Carman since she also remembers him as a baby.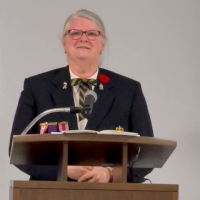 LA Zone A-4 Deputy Commander Susan Laker:
Thank you for the invitation. Relaying congratulations on acheiving 75 years of service from LA Zone A-4 Commander Susan Spinks. Wonderful meal by the branch LA as usual.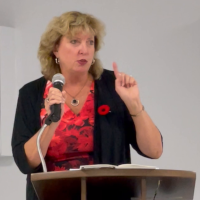 Sarnia-Lambton MP Marilyn Gladu:
Huge thank you to the Sarnia Pipe & Drum Band for always stepping up when needed. Congratulations on achieving 75 years of service. Provided a tribute to those who remember our fallen heroes, and presented an Honorarium to the branch from the Federal Government in recognition of our 75
th
anniversary.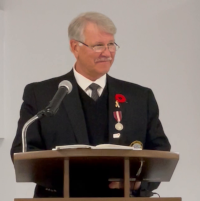 St. Clair Twsp. Mayor Steve Arnold:
Greatings on behalf of St. Clair Twsp. and congratulations on our 75
th
anniversary. A recognition of the important work done within the community and the close working with the township organization. Steve has strong family ties to military service and appreciates our suport of local veterans and youth.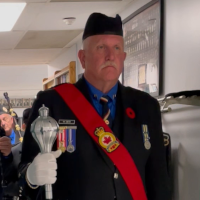 Drum Major Mike Dew:
Preparing to march out the Sarnia Pipe & Drum Band. The band performed as our guests as honoured speaker(s) for the evening.
Guest Speaker(s)
Sarnia Pipe & Drum Band were invited to be our guest "Speaker" for this year's awards banquet.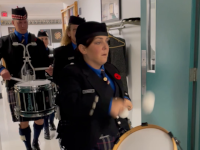 Marching on the band. It's important to remember that it's a pipe and
DRUM
band.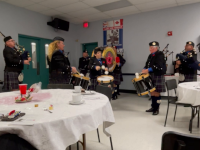 Sarnia Legion's Pipe & Drum Band performed a medley of traditional Scottish reels including Itchy Fingers and culminating with a standing ovation for Amazing Grace.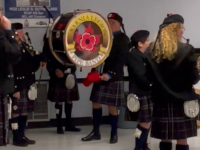 And introducing Sarnia's own, and our favourite, marching pipe band dancing bass drum drummer.
Ladies Auxiliary
Branch 447 is proud of its Ladies Auxiliary. Our ladies are much appreciated for the exceptional work they do in the support of the branch.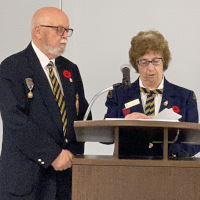 Saving the best until last:
At the end of proceedings, along with previous equipment donations of $462, LA President Denise Taylor presented the branch with a support cheque of $10,000, received by branch President Eric Hancock.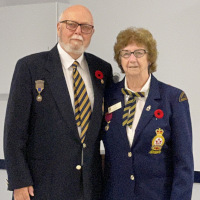 Presidents Eric Hancock & Denise Taylor:
75th Anniversary Celebration
Branch 447 is celebrating 75 years of service to veterans and the local community.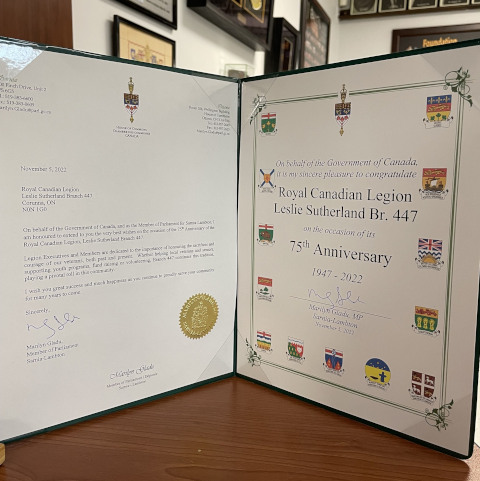 Government of Canada Honorarium: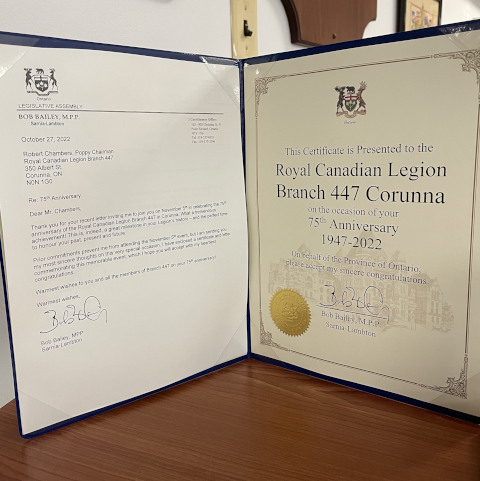 Government of Ontario Honorarium: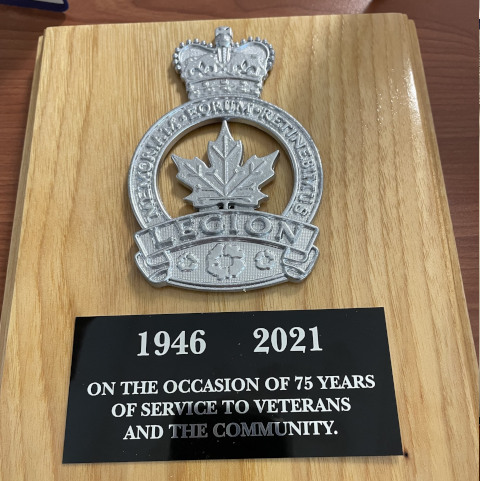 Legion Anniversary Plaque: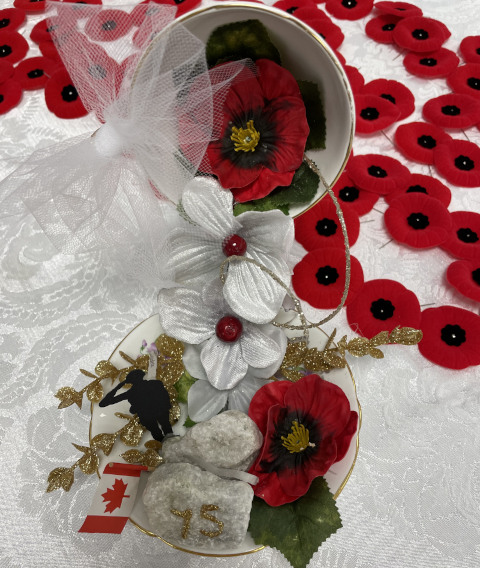 Commemorative Centerpieces: Created by Robin Neely.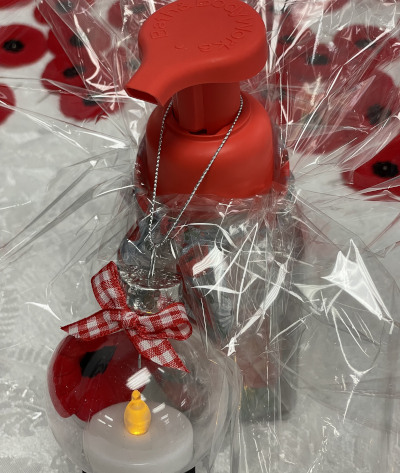 Guest Keepsakes: Created by Robin Neely.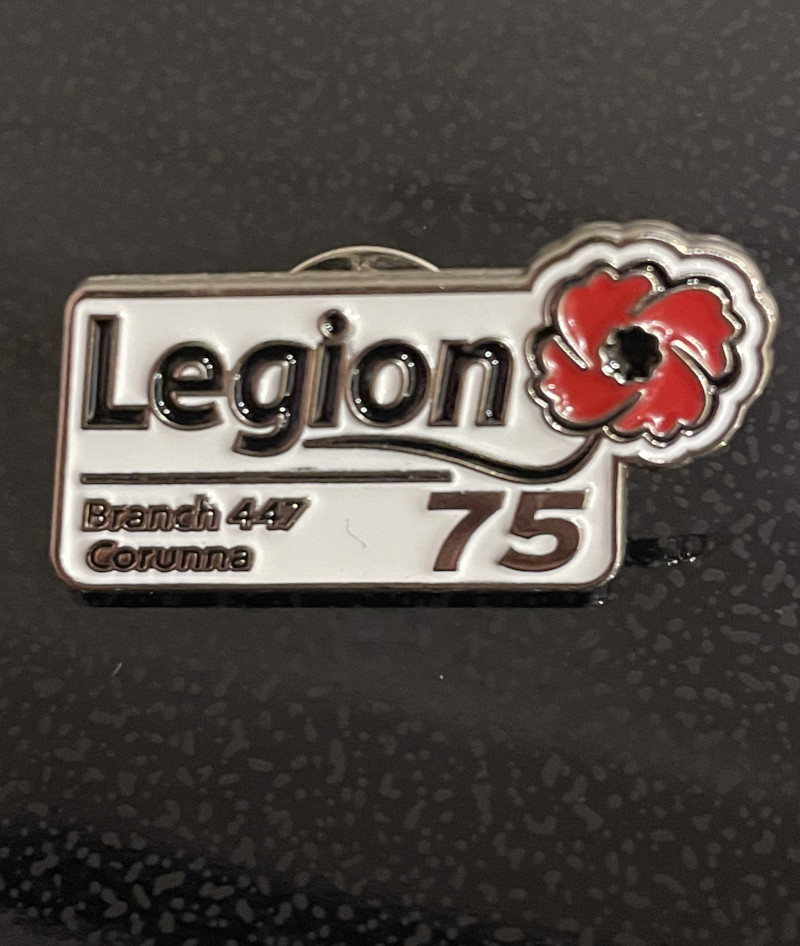 Anniversary Pin: Each attendee received a commemorative lapel pin.
Branch Honourees
Past Office Bar/Medal
Past President
John Cormier
Public Relations
Dan Watson
Honours & Awards
Eric Hancock
Executive
Carman Martin
Recognition
Legionnaire of the Year
Carman Martin
Certificate of Merit
Malcolm Boczek
Florence Winger
Certificate of Appreciation
Peg Cormier
Joanne Derry
Michelle Hohol
Edna Mitchell
Jon Neely
Member Service Pins
Member Service Awards presented by Branch President Eric Hancock and 2nd VP & Awards Chair Karin Pennington

50 Years
Ordinary: James Haxton, Leo Prout
45 Years
Associate: Dennis Harwood, Robert Shea, Jim Mitchell, James Stevens
40 Years
Ordinary: Dennis Heath
Associate: Percy Parker
35 Years
Ordinary: Guy Jeannotte
Associate: Eric Halcrow, Daniel Howard, Terry Marsh, Donald Musson, Florence Winger
30 Years
Ordinary: Vince Whelpley
Associate: Angie Barrese, Lyn Boczek, Malcolm Boczek, Robert Ferguson, Steve Glowa, Jon Kutz, James Pitt, Greg Stoudt
25 Years
Ordinary: Kenneth Hill, Shawn MacNeil
Associate: Steven Kutz, Joe Levan, Jean Montminy
Affiliate: Doug Melton, Jean Proulx
Affiliate NV: Curt Kendel, Annette Stoudt, Charles Melton, Allan Murray
20 Years
Ordinary: Fr. Paul Woolley
Associate: Kim Patterson, Judy Turner
Affiliate: Roger Newby
15 Years
Associate: Verne Gekill, Rob Nettleton, Patrick Stevens
10 Years
Associate: Steven Glowa Jr., Shane Johnson, Tracy MacPherson, Jon Neely, Shelly Neiva, John Popowich, Scott Weiss
5 Years
Associate: Colleen Brown, Terry Brown, Cory Ireland, Bonnie Martin, Karin Pennington
Affiliate: Christine Bellaire, Christine Hoaran, Victor Hoaran

LA Honourees
LA Member Service Awards presented by LA Ontario Command 1st VP Sharon Crown and LA Branch President Denise Taylor

TBA
TBA

LA Honouree list and branch/LA honouree photographs are in progress and will be added as they become available.
Videos
Sarnia Pipe & Drum Band
performed by invitation as our guest "Speaker(s)"
Marching On the Band
Medley
Reel #3
Reel #4
Reel #5
Amazing Grace
March Off the Band